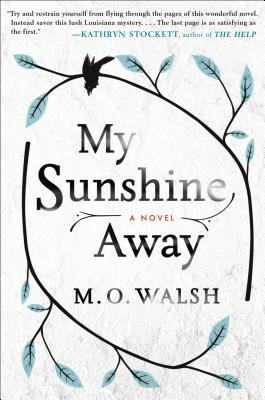 In Baton Rouge, Louisiana in the summer of 1989 Lindy Simpson is living her normal life.

She is a track star, she is popular, pretty, and a good kid.

Her life is predictable. She rides her bike every day to the track to train and everyday she rides home at the same time. But one day things don't go according to plan and on the way home she is attacked and raped.
Across the street and two doors down our narrator lives with his adolescent obsession with Lindy.

He has had a crush on her since elementary school.

Back in 1989 kids could still be innocent of the ways and cruelties of the world and our narrator is.

He doesn't know what the word rape means, he asks of the street wise kids "what does that mean?" and is laughed at a lot. He doesn't know what the locker room and street slangs mean, and suffers for it.

His family is normal and upstanding and he doesn't have to deal with the underbelly of life so he doesn't understand it.

But this summer, he is learning.
As the story progresses, as our narrator tries to help Lindy, tries to understand this thing called adolescence, we can't help but see his obsession with her and begin to wonder a little.

Even though we know he didn't do it, no one in the neighborhood is above suspicion.

Sometimes he makes things worse for her.

Sometimes there is a crack in her new armor.
As I read I kept wondering whose story this was.

Was it Lindy's?

She is the focus of our narrator, certainly, and what happens to her propels the story but the narrator is holding the steering wheel.

I thought it was HIS story.

Other reviews think it's hers.

Our narrator is given to us perfectly.

His reflection on this time of his life, his memory, his reason for telling us this story, M. O. Walsh got it and gave it to us.
And as I read, and by the way, I couldn't stop reading, I was so flooded with memories of the clumsiness of adolescent life.

The sorting out of the world and our place in it, our families, our friends, ourselves, our bodies, thinking with that adolescent malleable brain.

What a mess that time of life is. I can't imagine any adult wanting to live those years over again.

So, prepare yourself.

In this book you do.